Falls Church, VA (June 7, 2023) – Today, the U.S. Apple Association (USApple) joins a coalition of agriculture organizations committed to two-way trade calling on Members of Congress to pass the UNITED Act. The UNITED Act is bipartisan legislation that gives the President the authority, in consultation with Congress, to negotiate a comprehensive trade agreement with the United Kingdom (UK).
Currently, U.S. apple exports are excluded from EU commerce by non-tariff trade barriers. The UNITED Act offers the UK the opportunity to adopt sensible, science-based rules and a new trade agreement that will help U.S. apples regain a presence in the UK market.
"The UK was once a significant market for U.S. apples, and could be again with a trade agreement and a rational set of rules in place. We're calling on Congress to pass the UNITED Act quickly, and on the President to use the authority completely," said USApple President and CEO, Jim Bair.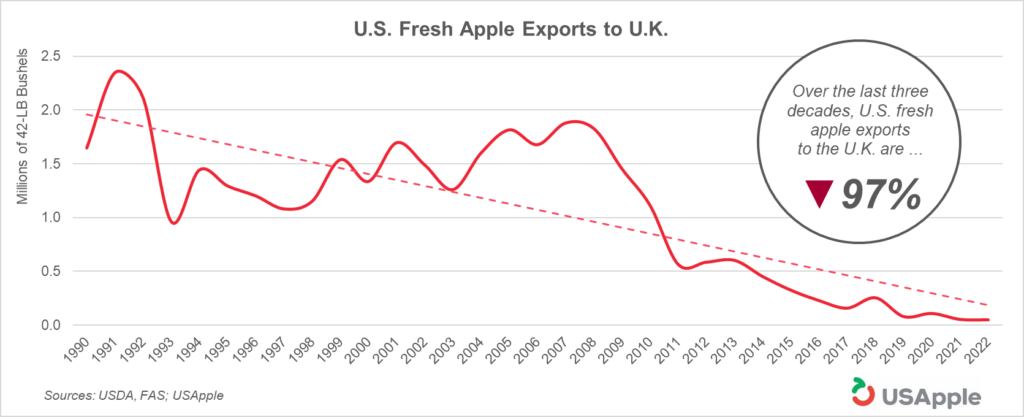 The UNITED Act is a fundamental opportunity to expand trade in U.S. apples – a nutritious, high-quality, iconic American product that once had a place in UK stores, and can again.
***
The U.S. Apple Association (USApple) is a member-driven association that represents all segments of the apple industry, including growers, packers, shippers, marketers, processors, suppliers, state/regional associations, and other businesses engaged in the industry. We are the national voice and resource center serving the American apple industry which supports 150,000 jobs, generating more than $8 billion in total wages, and is responsible for almost $23 billion in economic output.