As the hard cider industry continues to grow, we're excited to learn more (and sample) the delicious partnerships coming to fruition between our grower members and cideries that are helping to introduce more consumers to delicious apple products.
In a recent interview, we heard from David and Philip Glaize of Glaize Apples, based in the Shenandoah Valley. They discussed their partnership with cideries across Virginia, including Lost Boy Cider, which was recently featured in Men's Journal. We also heard from Tristan Wright, the cider company's Founder and Head Lost Boy, about his philosophy and approach to making dry cider. Lost Boy sources its apples exclusively from Glaize Apples.
Since the 1930s, the Glaize family has been growing apples in Winchester, Virginia, which is less than 90 minutes west of Washington, DC. David and Philip explain that each generation has added something new to the business. The first generation planted trees, and the second added cold storage. The third brought a packing line, and the fourth began a processing line in the form of a juicing facility behind the packing house.
David and Philip Glaize are this fourth generation. About ten years ago, they began exploring how processing the apples into cold-pressed juice for cider could help them get more apples to more consumers in Virginia. When they first started the project, researching which varieties would make the best cider did not yield clear answers on which cider apples were best for their business.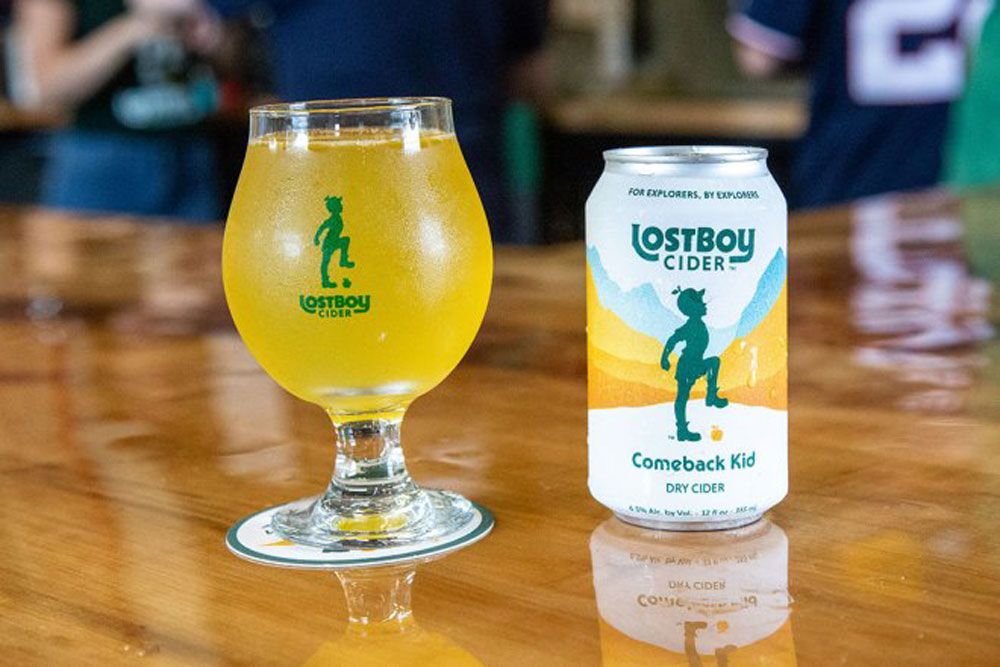 "A lot of the varieties hailed in the literature are a pain to grow here, but there are plenty that are good. We planted 12 different varieties to choose from for what we could grow at a large scale," says Philip.
Philip dedicated himself to finding the best cider apples for their region of northern Virginia, which would ultimately benefit cider makers too. What kinds of apples make the best cider? Often, the answer depends on the cider maker you're talking to.
"A lot of Virginia cider makers have been restricted to what was available. We needed to find out how the apples behave in Virginia soil. If it makes a great cider but doesn't grow well here, that doesn't work. It needs to grow well here, but also needs to press well," says David.
While most of the Glaize's apples are grown to be eaten, the Glaizes now grow more than ten cider-specific varieties that are not popular for eating. Like the wine industry, most apple varieties grown for cider (like sharps, sweets, or bittersharps) do not cross over well as eating apples. York, Empire and Pink Lady apples, however, are frequent exceptions to that rule. The Glaizes tested both European and North American varieties to see which would perform better, separating them in the orchard because European varieties are often less resistant to pest and disease pressures.
With a decade of experience growing cider apples now, they now have partnered with many cideries and wineries across Virginia where their juice is transformed into delicious beverages, including at Blue Bee Cider, Courthouse Creek Cider, and Potter's Craft Cider.
Lost Boy Cider is a little over 80 miles from the Glaizes' Winchester, VA orchards in Alexandria, VA. This industrial space has been transformed into a cidery and neighborhood hangout. Since opening in June of 2019, the team at Lost Boy has been using juice from the Glaizes to create their menu of more than a dozen ciders.
Located in an industrial warehouse transformed into a cidery and gathering space, it fills quickly on evenings and weekends, with patrons rallying for major events like the World Cup or World Series, or simply coming together for board games and food carts on a Saturday night. It's a family-friendly, dog-friendly space where children have a special play area called "Hook's Hideout."
"Part of what we're doing is informing people that cider is an option," explains Tristan.
After learning that he could no longer enjoy beer or whiskey due to an allergy, Tristan remembered how much he enjoyed drinking hard cider with his wife on their honeymoon in Ireland. He recalls the camaraderie shared with other bar patrons and began researching opportunities to learn about how cider is produced.
"One of the things that first attracted me to cider is the creative side of the production," he recalls.
Oregon State University's cider production program took Tristan to Portland, Oregon. Then through Cornell University's Viticulture program in New York, he further developed his craft under the mentorship of some of the world's most renowned cider makers. Through those experiences and since he's visited nearly 40 cideries across the country and gathered ideas from using to white wine and tequila barrels to whiskey barrels co-fermented with strawberry.
For the Lost Boy business model, he drew inspiration from Seattle Ciders. Tristan admires its variety and efficiency. As the son of an engineer and a self-described "recovering" banker, those priorities come naturally to him.
Tristan's approach to making cider is built on a foundational promise that the cider will always be dry, unfiltered, unpasteurized, and with no sulfites—"as close to the real gallon jugs we drank as kids as possible," he says. "We'd put it up against any cider in the world."
As apple growers, the Glaizes are excited to taste the apples in the final product, of course, so they appreciate when cideries preserve and feature the natural flavor of the fruit. Their personal favorites include The Comeback Kid—Lost Boy's flagship blend. It has all the apples the Glaizes use in their juice blend without any other flavors. The Glaize Brothers are also fans of the Gold Digger, Lost Boy's cider that features Golden Delicious and Rhode Island Greening apples.
"We chose a sauvignon blanc yeast strain and ran about 40 yeast trials to discover what works best with the Shenandoah apples. This was a good fit for them," says Tristan.
"In cider, you can use poor quality apples and add flavor to make a good cider. You can mask it," says David. But, Tristan's approach is about staying true to the history of Virginia's cider—a tradition that even Thomas Jefferson participated in.
"We don't goof around with it. What we serve is what I would drink in my own home and give to my own family. I realized I didn't need to add any sugar to it," says Tristan.
When speaking about the partnership and valuable experience the Glaizes have brought to Lost Boy, Tristan is grateful for their knowledge and friendly approach. "The Glaizes have been super helpful in dialing in recipes and blends to capture the unique flavor and depth of character that the competition isn't capturing. Right now, they're our exclusive partner."
"It's exciting—the direction they're growing, and we're excited to grow with them. It's a great partnership," says David. Tristan agrees.
"It all feels right. We're doing everything we can to do it in the right way, and it feels good." Both the Glaizes and Lost Boy plan to expand their businesses where possible to reach more consumers and give them the best possible cider experience.
All photos by Misha Enriquez for Visit Alexandria.