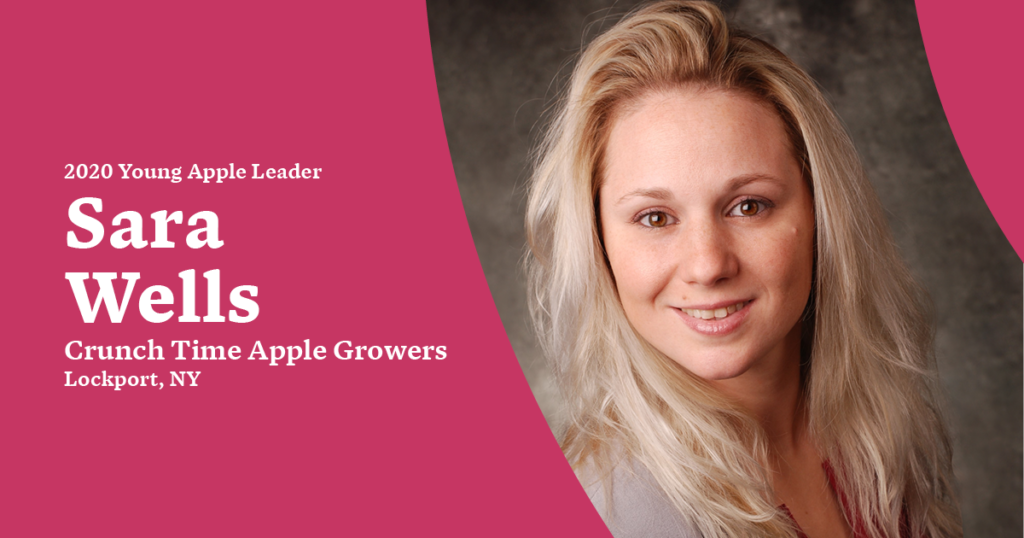 Sara Wells is part of the rare bunch that fell into the apple industry by chance. When she applied to her current role through a staffing agency, she did not anticipate a career in the apple industry, let alone becoming so deeply involved that she is now a Young Apple Leader.
"When I went into the interview and met [the person] who is now my superior, I realized it was an opportunity that was dropped in my lap–it was made for me."
Though she grew up on a farm, Wells's background is in business management, and she had not worked in the agriculture industry before. Still, her past jobs in animal care, the medical field, and real estate gave her plenty of beneficial experiences that prepared her to take on the role of a marketing generalist at Crunch Time Apple Growers.
"The first time I was in a legitimate orchard was on the job; however, I grew up on a farm, and we had some apple trees on our farm. So, I've been picking and eating apples off the tree my whole life."
When she was younger, Wells and her siblings loved the apple trees for their beautiful pink-fleshed apples. It was that first experience of joy and curiosity about those pink apples that drew her in.
"It was almost like it was marbled with pink. As a girl, I thought that was the coolest thing. From then on, my interest in apple varieties was piqued," says Wells.
In her current position, Wells supports a co-op of 147 growers across the state of New York with their marketing needs specific to Ruby Frost and SnapDragon varieties.
"Anything related to those two apples, Crunch Time manages it," she explains. Not only does Wells get to visit orchards, processing facilities, and packhouses, she also gets to add to her long list of baking recipes featuring apples.
"I also completed a dual-degree in baking. I'm an avid baker, and the fact that I've been able to work with an apple grower and all the things I've been able to bake with apples is a win-win."
When Wells is not moving between facilities and meeting with growers, she is focused on researching the market and creating solutions to keep consumers engaged and apples trending.
"As exciting as the apple industry is—it's a fast-saturated market. There are a thousand apple varieties. It's a challenge just managing one. We are building brand awareness. Having consumers knowing the name of your apple and going to stores looking for it is the biggest goal, but it's also the biggest challenge," Wells explains.
For Wells, it is equally exciting and challenging trying to communicate the stories behind SnapDragon and Ruby Frost apples to consumers. She believes a career path in an unlikely industry shaped out to be a match made in heaven."You spend your whole childhood being asked what you want to be when you grow up, and rarely is the answer, 'I want to work in the apple industry,' but now I don't see myself doing anything else."