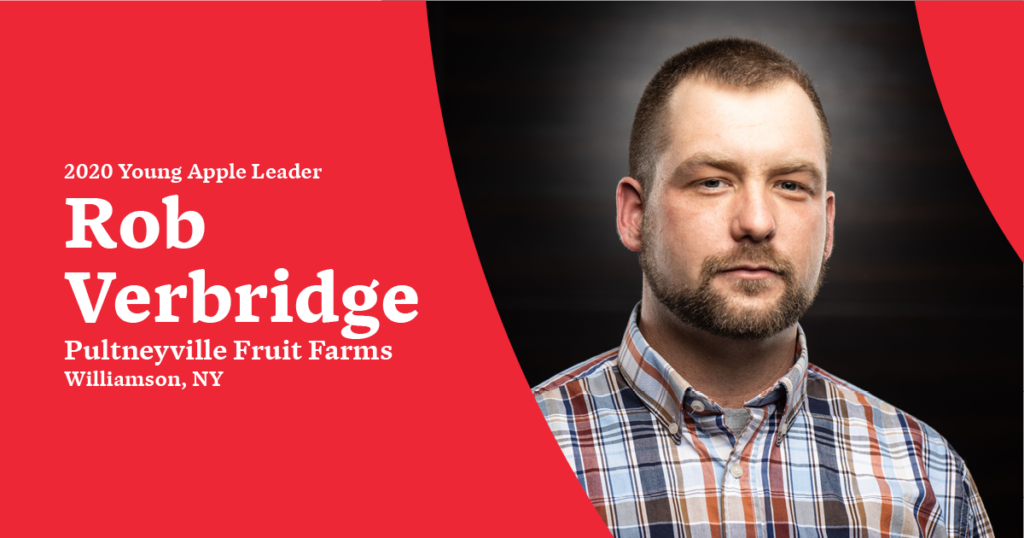 Rob Verbridge of J.H. Verbridge & Son Inc. is a fifth-generation apple grower. His family's farm was founded more than 120 years ago, making this Young Apple Leader a natural successor to his family's apple-growing legacy. Though Verbridge has been following in his father's footsteps around the family orchard for as long as he can remember, about a year ago he made the next step in his growing career by purchasing some 250 acres from his father and father's business partner.
The younger Verbridge is now into his third season of growing his trees in the nursery on the land he purchased.
"A lot of local farms—fresh and processing growers—are growing their own trees just because there is an increased demand for trees right now," Verbridge explains.
It is not an easy decision for many growers who are trying to keep up with today's saturated apple market. It was not an easy choice to commit to growing Autumn Crisps and Galas when new apple varieties continuously enter the market and become popular with consumers.
"From the time I decide I want to plant a variety, it's two years before I plant the tree and another five years before I have a full crop," says Verbridge. "Every day, I make decisions that will affect me five years from now—but, actually, it's more like 30 years because that's the amount of time we allot to reap the benefits of the upfront planting costs."
Another factor that plays into his decisions is the inherent risks associated with growing any crop—which is why Verbridge chooses to grow Autumn Crisps. It is a variety known to be tasty for fresh consumption and is equally durable for processing. As Verbridge sets on a 10-year-growth plan, he looks forward to getting a healthy return on his investments.
"With more bushels and trees, theoretically come more returns," he explains.
When Verbridge isn't tending to his own land or the Honeycrisp trees in his two-year-old nursery, he works full time on his father's neighboring apple orchard, where about 95 percent of the apples are grown to be processing fruit. Because the Verbridges are located near Mott's, the father and son pair work with them, along with many other growers, to find a home and purpose for their Cortlands, Goldens and other processing varieties. The other 5 percent of apples that come from the Verbridge's operations are fresh varieties that are shipped to local packing houses.
Verbridge earned a degree in engineering and business management at Clarkson University in Potsdam, N.Y. He now uses both his business acumen and engineering background to work on the orchard.
"We do a lot of our own fabrication, such as building our own sprayers and building our own motor frames for tractors," says Verbridge. He helps the business save by building things for half the price.
While there are many other growers nearby who also do business with Mott's, Verbridge views them more as coworkers than competitors.
"We're all working towards the same goal to sell our fruit, and we all sell it for the same price, so if we help each other we're all the better in the end."
After USApple's Capitol Hill Day which took place earlier this month, Verbridge is looking forward to helping members of the apple industry in his local community get more involved with advocacy.
"It can help not only my farm but all of the people in my area that farm. I think they've had that mentality since the 1800s. Everyone's better together at the end of the day."