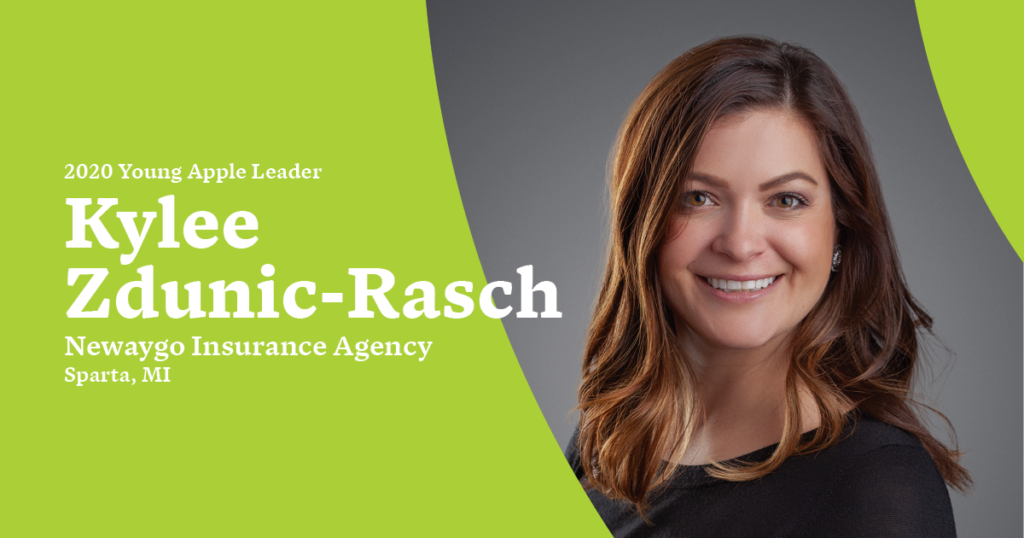 Growing up on flat land around corn and soybean crops, Kylee Zdunic-Rasch didn't set foot on an apple orchard until she moved across the state to west Michigan in her twenties. Now, Zdunic-Rasch is a 2020 Young Apple Leader and interacts with apple growers each day–on both a personal and professional level. She is married to an apple grower and she insures apple growers' crops in her role at Newaygo Insurance Agency, Inc., so she is not exaggerating when she says she lives and breathes apples.
Though apple orchards were new to Zdunic-Rasch, agriculture has been a cornerstone of her upbringing.
Zdunic-Rasch earned her undergraduate degree in Agribusiness Management from Michigan State University and then went on to complete her MBA. Her experiences growing up on a farm and in the collegiate environment translate well into her professional life. Prior to her current role, she worked at AgReliant Genetics, a seed company selling corn and soybean seeds.
Currently, she works with apple growers to create guarantees for their crops.
"Crop insurance is an easy niche for me. Living in Sparta is like being in the middle of apple country, so I was compelled to learn the apple and specialty crop industry," she says.
As an insurance agent, she is proud to be able to help apple growers in the event that a disaster strikes.
"I have a price floor for apple growers. It's important that we offer that to crop growers as well as soybean and corn growers."
Zdunic-Rasch's role exposes her to the intricacy of growing apples. Her clients share with her all of the complex systems and processes apple growers implement to bring their crops to fruition each year.
"They have to be insanely in tune with their apple trees and the environment around them–along with managing workers, marketing, cold storage and the timing for picking and spraying."
Still, apple growers are so engrossed with creating the perfect apple that Zdunic-Rasch suggests that marketing for the so-called perfect apple is falling short.
"They focus so much on creating a high-quality apple, and there is not a lot of focus on marketing that apple to the consumer. That connection with the consumer is going to make or break the industry."
She hopes this trend will shift to protect growers from becoming obsolete. When considering the cost of trees, the prevailing wage rate to employ foreign workers, and the irrigation systems, Zdunic-Rash believes growers are taking on a lot.
Another trend in the apple industry that Zdunic-Rasch anticipates is how growers will go about implementing the H-2A program, which allows foreign-born workers to work temporarily in agriculture when there is a shortage of domestic workers. "I think you're going to see more growers trying to pull off the H-2A program on their own rather than going through a third-party company."
She attributes this prediction to the prevailing wage rate, which is $14 in Michigan.
Nevertheless, as an orchard operator herself, Zdunic-Rasch is unwavering about the idea that no matter who is doing the picking, it should always be a safe product. Zdunic-Rasch lives by her father-in-law's words, "I will always grow a safe product that I can pick off a tree, wipe on my shirt, and hand to my grandchild."