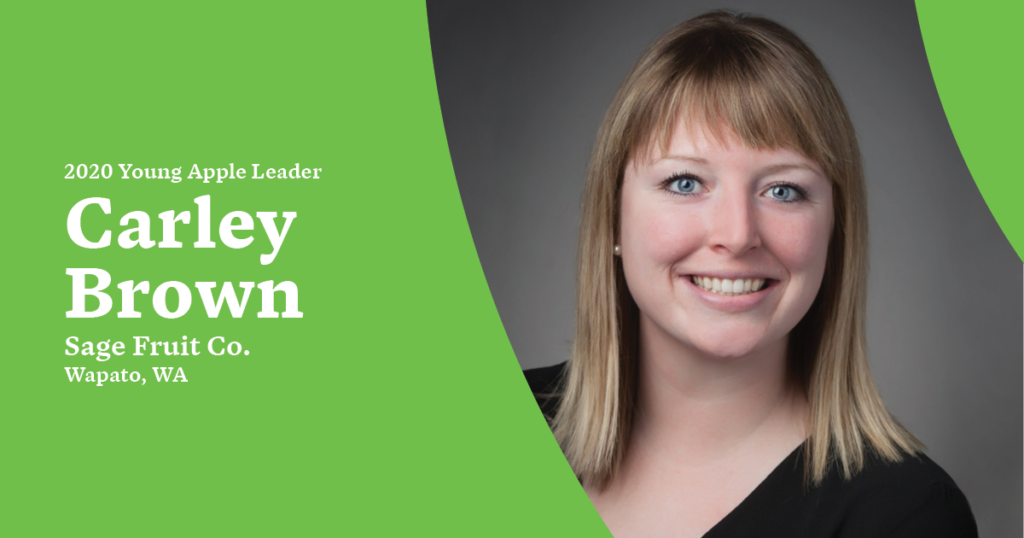 The summer Carley Brown graduated high school, she started 80-hour workweeks at Legacy Fruit Packers in Wapato, Wash.. As a daughter of fruit growers, she was familiar with the hard work of the cherry line.
After three summers, Brown was moved from the day shift to the night shift. She went from processing the paperwork for lot changes to ensuring pack out data was entered correctly. With a short window for harvesting, hard work and long shifts were common.
"For my last summer, my hours were 5 p.m. to 4:30 a.m., Monday through Sunday. The picking season is only two months out of the year. Cherries need to be at a cold temperature between 32 and 33 degrees, so we can't have them sit. Every day, it's constantly picking."
The practical experience Brown gained during her summers gave her invaluable exposure to crucial processes and people in the tree fruit industry.
"I met a lot of people who had a lot of connections," she says.
A few years later, Brown is now a Washington State University alumna and her job as a sales assistant at Sage Fruit Company in Yakima involves facilitating the process of getting fruit from packing houses to grocery stores.
"I work under a Safeway Albertson customer base. In the mornings, I'll send shipping and invoice orders…I'm constantly putting in orders."
Brown reflects on long summer nights as a humbling experience because now she enjoys having weekends off and the predictable temperature of her office.
"As you can imagine, the warehouse has a different atmosphere than an office," she says.
The best part of her work, she says, is being able to connect with her father. Brown grew up seeing how hard her father works, and it's instilled not only her work ethic but her appreciation for growers overall.
"He has so much passion for this industry, and I think the growers get the least credit, and they are the ones who produce the product for the customer."
Brown's ability to empathize with the many stakeholders of the industry is helping her to grow and determine where she wants to go next. From growers to packers to shippers, Brown sees how all the pieces fit together to bring fruit from orchard to consumer. She wishes more consumers could see the process behind their food.
Brown is also a fan of the traditional apple varieties and likes the idea of carefully-curated variety selections rather than overwhelming consumers with too many options.
"As a consumer, I'm looking at green, yellow, and red…I think that trend of less varieties will happen."
Still, she is excited that Cosmic Crisp—a variety created at her alma matter, Washington State University—is finally becoming available to more consumers. The shelf life and crispiness are two attributes of the variety that she thinks will be very popular with today's consumers. Brown brings a wide range of perspectives to the Young Apple Leaders Program, from her experiences growing up on an orchard, spending long summers in packing houses, and working in the sales department of a large packing company. Yet, she is looking forward to the advocacy exposure that the Young Apple Leaders program will help her gain, along with the understanding of how the industry works with Congress.