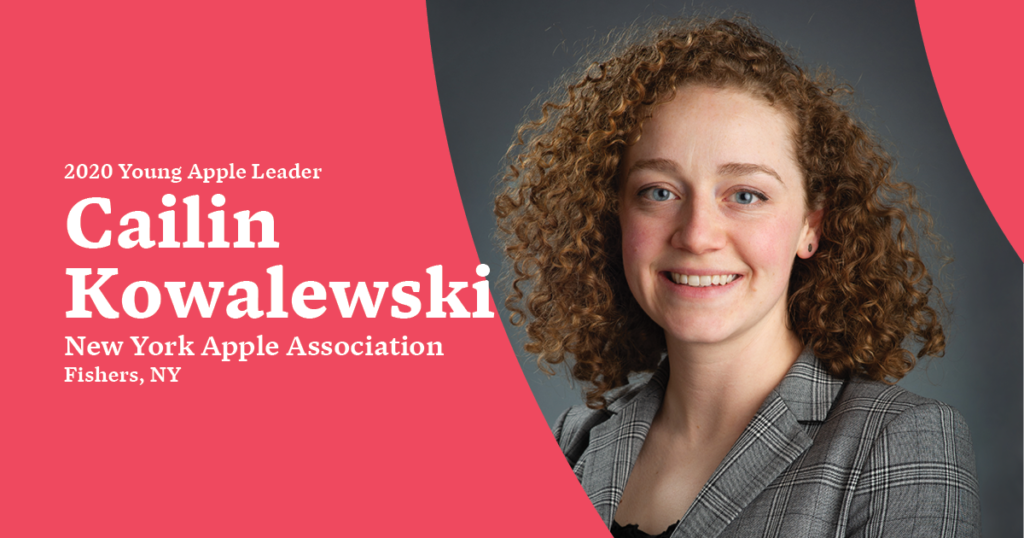 Growing up in Fredonia, N.Y., a village just minutes from Lake Erie, it's no wonder that Young Apple Leader Cailin Kowalewski loves the apples grown in her home state. One of her favorite varieties is Empire, which was first developed at Cornell University. Kowalewski started her career there at the Cornell Cooperative Extension after completing a graduate program at Tufts University in the Division of Food and Nutrition Policy and Program.
Her priority as a nutrition program coordinator at the Cornell Cooperative Extension was bringing local produce to local schools, in addition to supporting other local food initiatives.
Kowalewski recognized the valuable insight she was gaining in that role and wanted to apply her knowledge of food service distribution in other meaningful ways. She accepted a position as an assistant account manager with the New York Apple Association and was later promoted to her current role as the retail and food service account manager.
Joining the apple industry in an official capacity was not her first exposure to New York apple culture. Growing up, her family often enjoyed camping near orchards. In her current role, being exposed to the business side of apple orchards has helped her appreciate the unique culture of multi-generation family businesses.
"The nature of a lot of the growers that we work with along with the growing operations that we support are all still family-based, and they have big impacts in their communities in terms of economic activities and employment," she explains.
Kowalewski takes pride and enjoyment in representing these businesses that are so deeply connected to their communities while also applying her expertise in nutrition and food policy.
"As someone with a background in nutrition, it's great to promote something that we know is good for people. The other part of it is that the growers that we support and market on behalf of are great and knowledgeable. They care so much about their crop."
While her role entails analytical work, she relies on her creativity to understand and market for consumer tastes. She firmly believes that there is an apple out there for everyone. With the constant innovations that are improving storage processes and harvesting, she believes the industry can find new ways to add value for retail partners and better meet consumer taste preferences.
As the general public becomes more informed and conscious of the food they eat, Kowalewski sees new opportunities to provide the important education they seek—or even help elevate the standards they look for in their produce.
"I think people are increasingly aware of their health and how important it is to eat fruits and veggies, so I think the biggest challenge will be how to take advantage of that opportunity."
Though Kowalewski is delighted to see more consumers incorporate more fresh fruits and vegetables into their daily routines, she also enjoys apples in their dessert forms. One of her favorites is a must-try: homemade applesauce mixed with ice cream.