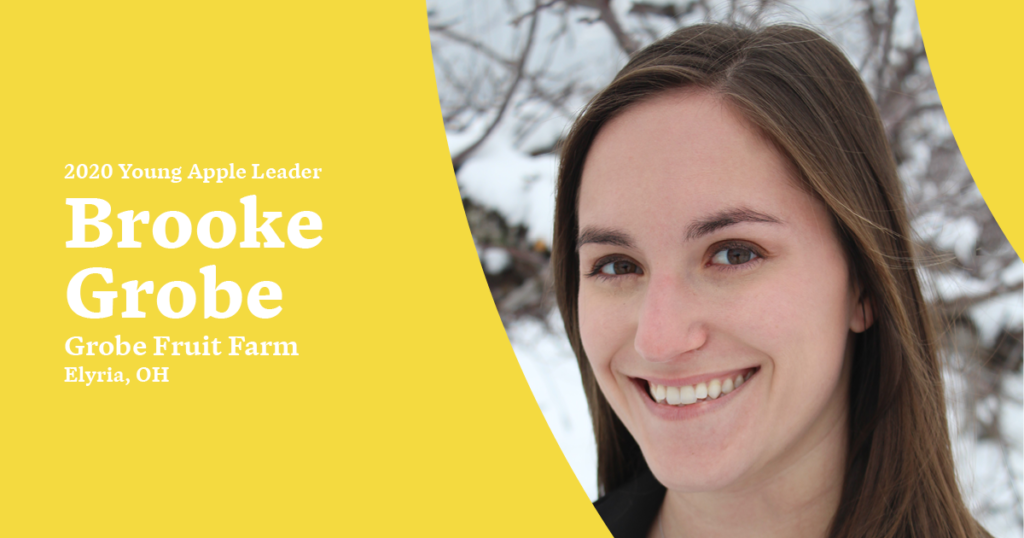 Brooke Grobe grew up on a corn and soybean farm in Ohio, and always had an interest in learning more about the business of agriculture. She chose a broad business major at Ohio State University that complemented her experience growing up on a farm—one that could land her a job in any facet of the agriculture industry.
"I have a business-oriented degree. I had a background in caring for plants already, so my classes were more focused on how to care for a business."
She also met her husband during their time as students at OSU. When she married into a family of tree fruit growers, she was introduced into a totally different side of agriculture, including the apple industry. Grobe gained a totally different perspective from the idea of the apple industry she had as a child picking fruit from U-pick farms with her family.
"Learning to care for trees is totally different than something you plant and harvest in the same year… it's so much more of an investment to care for an orchard—planning the right varieties, caring for the trees in the right way."
Her days on the orchard have shown her the weighty impact of decision-making within the apple growing industry, as many decisions have a lasting impact and challenges can take years to course correct.
"When you care for an apple orchard, that decision can last for twenty years," she explains. It is one of the major differences that she adjusted to coming from a corn and soybean farm.
"So much is riding on planning the right varieties and caring for trees in the right way," she says.
Grobe's work on the farm includes a range of duties, and there is never a dull moment. Grobe Fruit Farm has been a family-owned operation for more than a hundred years, and she is now starting to take on some of the duties older family members once performed.
"We don't really have job titles. I do everything from bookwork to apple grading. I help market the farmers market and have been growing into more responsibilities of the older generation."
Although she enjoys ensuring the business is healthy from a financial perspective, she loves being outside in the summertime and working in the orchard too. Shifting her work priorities as the seasons pass is something that keeps her work exciting.
"I love that I'm doing something different every day of the year."
She also notices firsthand how certain policies impact family farms like hers.
"There are a lot of challenges right now. What I'm seeing on my family farm is labor–finding the people to work and finding better laws to accommodate the people who are willing to work [is challenging.]"
As she looks at the farming industry overall, she predicts that enhanced consumer education will be a popular trend within agriculture over the next decade.
"Consumer education is a big focus. I wish consumers knew more about the process of how we grow the food served in this country and why farmers make the decisions they do to grow their food. They make these decisions because they are sustainable for their own land and the environment. We couldn't farm without making sure our land is in the best shape possible," she says.
Even though Grobe sees on a daily basis the vast differences between growing corn and soybeans to maintaining a large orchard, in many ways she also feels that farming is farming. Her passion for consumer education extends beyond tree fruit to agriculture in general.
"What's the healthiest way you can feed your family?" she poses hypothetically. It's a question that can continue to be answered with committed individuals in the agriculture industry and candid conversation with consumers.