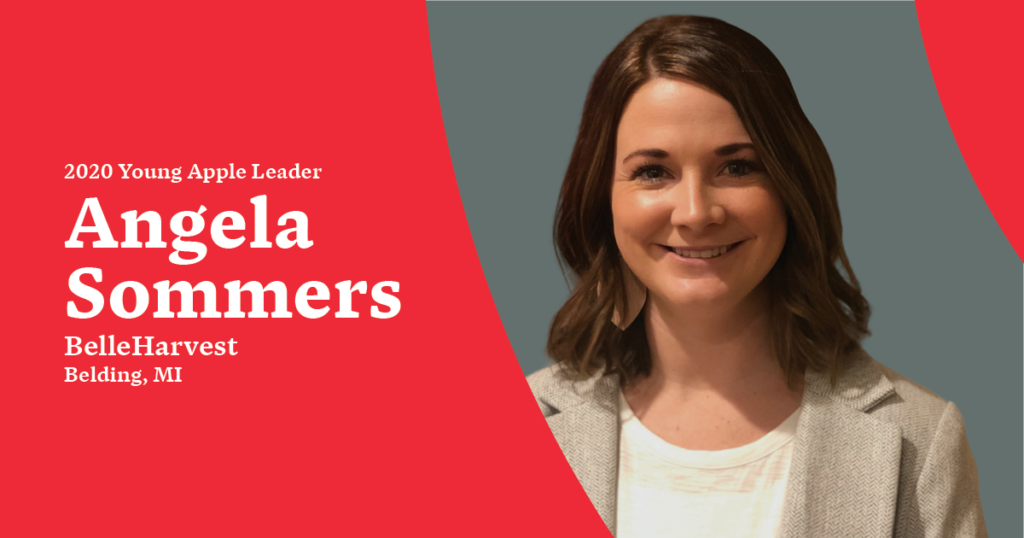 While some city kids were yelling out "car" during the middle of a ball game each time a station wagon passed through, USApple Young Apple Leader Angela Sommers was roaming around in her backyard—which also happened to be an apple orchard.
"My first memory would be stepping out my backdoor and being in the orchard. It's kind of been in my blood since I've been able to go outside," reminisces Sommers, a fifth-generation apple grower.
The modern marketing director of Belle Harvest and Michigan Fresh likes her apples sliced up on a charcuterie board paired with cheeses and nuts. She is especially fond of keeping Smitten apples in her fruit basket at her Michigan home.
"It's a newer variety that originated in New Zealand. It's really sweet and it's got a tremendous crunch to it," she says.
Though apple growing would always be a part of her family's life, Sommers initially pursued a different path in her education and early career. She found opportunities to volunteer in Africa and work in refugee and foster care during college. Because her brothers had been tending to the family orchard so successfully, she explored the humanities and humanitarian work—in the classroom and real life. After earning her bachelor's degree in social work, she returned to Africa and worked in a program supporting African women.
When it was time to start paying down her student loans and move closer to home, Sommers was hired at a company that provides crop protection products for apple growers and farmers across the country.
"My job was to identify pests and diseases in the orchard…It wasn't my favorite job, but it was eye-opening and humbling. It made me appreciate what it takes to do what my family does."
As her career advanced, Sommers found more opportunities to explore the agriculture industry. She took a job with Wilbur-Ellis, a global company that provides agriculture technology and products, but had to let it go after having learned her position was moving to Denver, Colo.
"I'd just had my first baby and wasn't ready to make that big leap, so I interviewed with BelleHarvest, who knew I had a passion for apple growing and marketing," recalls Sommers.
Now, Sommers has a role that marries her two passions: apples and marketing.
"I love that consumer interaction and really explaining where fruit comes from and helping people understand how it's packed and how it's shipped… my favorite part is sharing stories both ways, with direct consumers and buyers."
As a marketing director, she uses storytelling and other marketing techniques to help increase awareness about different apple varieties, including their flavor profiles and colors. Currently, she believes the apple industry is facing a challenge that can be partly remedied by smart marketing.
As Sommers continues her journey to educate consumers and buyers about the nuances of today's apples, she relies on her own fond childhood memories to inspire messaging that will encourage consumers to try new apples and understand the intricacies of producing and growing them. "I wish people knew just how much passion the growers have behind this and the amount of work and detail that they put into each apple that gets put into the marketplace."
---