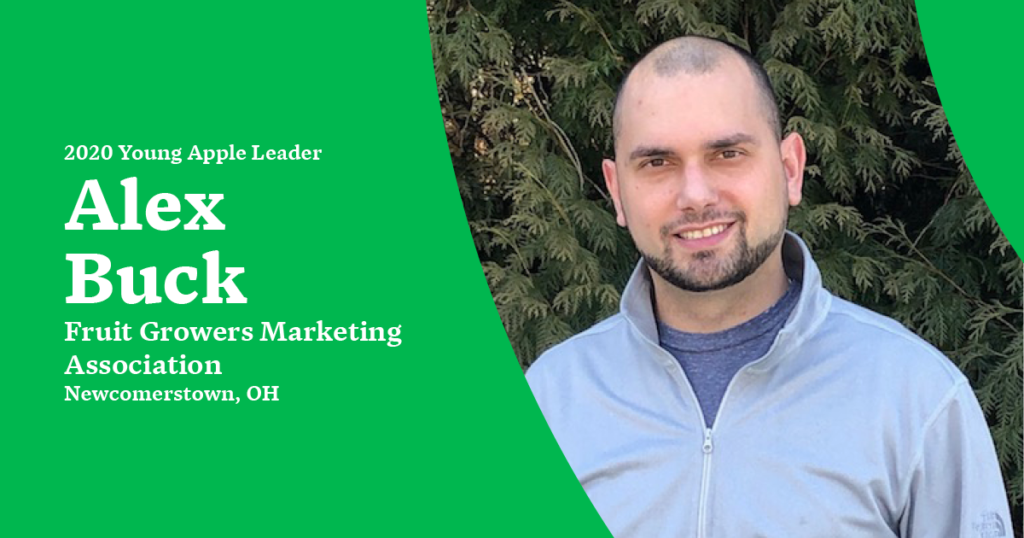 "Most people start as a grower. I've started on the other side and worked my way back to the growers," says Young Apple Leader Alex Buck.
Buck started his career in produce with the retail chain Giant Eagle. There, he found his passion, which led to a role in wholesale. Though the standard practice at the time was buying fruit from out-of-state distributors, Buck made the conscious effort to start making more local produce available by developing relationships with local growers. He appreciates the perspective of working on the retail side of the industry, and it adds value to his relationships with growers, too.
Now Buck works for the Fruit Growers Marketing Association in Newcomerstown, Ohio. Because of the varied geography and climate in Ohio, many different varieties of apples grow well there, which keeps Buck busy and engaged. Most of his days are spent meeting with growers and on the road visiting orchards and packing businesses.
What Buck admires the most about the apple industry is the delicate balance between risk-taking and predictive analysis growers need to be successful and profitable. The weight of the decisions growers face year after year is what keeps him motivated.
"Growers have to make educated and thought-out decisions for the long term," says Buck. "They can't just shoot from the hip. They really have to make logical decisions. Most growers say they don't need to go to Vegas because they gamble every day," says Buck.
One technique Buck has seen growers utilize when testing new varieties is using U-Pick sessions as a way to get quick consumer feedback. For the varieties that gain the most traction during the U-Pick sessions, Buck notes that the growers he works with may decide to start growing them on a commercial scale.
And, according to Buck, some growers come out winning.
"For example, some of our growers grew Crimson Crisps to fill a harvest gap and our customers loved them, so the growers have kept growing them," Buck explains.
As certain varieties become increasingly popular, Buck thinks the club variety trend is here to stay.
"Club varieties are going to be a very competitive part of the industry. It might feel oversaturated, but the apple industry will still be very competitive for a while. There will be more and more varieties because everyone's looking for the next big apple, the next variety, and new ways to market it. I don't think that trend is going anywhere," says Buck.
The Young Apple Leader wishes more Americans were aware of the up-front investments and labor that growers put into the fruit, which consumers may not know about or notice. He notes the hours spent on orchards during the cold winter months and the seven to eight years of waiting to see a return on what was planted.
The other outsized challenge Buck sees his growers facing is labor costs. After seeing how Ohio has had one of the largest spikes in labor costs in recent years, Buck predicts that labor costs will only continue to rise.
"The cost of H-2A workers is taking a toll on our growers," he explains. "It's hard to find local help, and big businesses are paying employees a lot more for doing a lot less work." That is why Buck is excited to see younger members of the apple industry in Ohio start to become more engaged in the policy issues that impact their businesses. He is eager to help that grassroots interest grow with the knowledge he will gain through the Young Apple Leaders Program. For Buck, bringing what he learns back to his home state and using it to galvanize more support locally is the most meaningful part.